CJ Designs – KTM LC8 Adventure Oil Tank Drain Hose Kit – #CJD-OTHK-O
Bike Model: KTM Adventure
Description
THIS WILL BE OUR LAST BATCH –  ORDER WHILE SUPPLIES LAST !
If you put a lot of miles on your KTM Adventure during the year, saving time when its oil change time means more time riding.
The LC8 ADV Oil Tank Hose Kit replaces the front Tank Drain bolt with a Braided line and plug that allows you to speed up the service and make it a lot less messy.
Installation
At the next oil change you can easily install this kit. Remove the bottom tank support bracket, after a modification to the tank bracket the hose fitting will now clear. Do this once and be ready for much faster and easier oil changes.
Now just drop the skid plate. Pull the Engine sump plug and NEW Oil Drain hose plug, and let drain. Swap and clean filters and re-install plugs.
The Hose kits all have Black hose fittings, but the tank fitting and hose end plug is ORANGE. These use braided stainless steel hose with a plastic cover so that it won't damage anything it rubs on.
Our hose kits are the only ones protected from wire chafing and all drain plugs are drilled for Safety wire!
We produce our own fittings so you can use your OEM tool kit. NO others offer that.
INSTALLATION INFO:
Included is a paper template so you know how much to remove from the tank bracket.
-Remove 2 bottom tank mounting bolts, and 2 bracket mounting bolts that attach above battery box.
-Drain oil
-Install Custom tank fitting, then NEW drain hose.
-Trim out paper outline.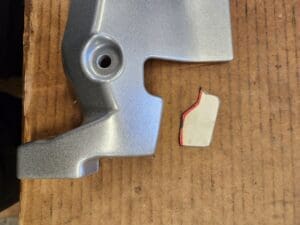 -On the side of the template marked in RED, trace that onto the Tank support mount.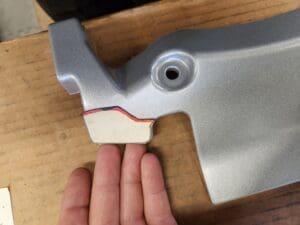 -Fit template over corner of bracket and trace on RED line. Trim that area away and reinstall bracket.
-With a Dremel cutter, Sawzall, or other metal cutting tools, remove top right corner to clear the new hose fitting.
Picture below gives you the idea of what needs to be removed. – Install ORANGE tank fitting with NEW brass crush seal into tank. Snug up fitting.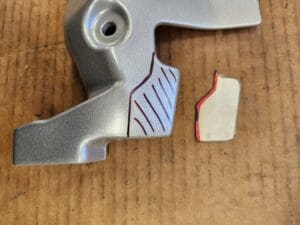 – Screw BLACK hose fitting to ORANGE tank fitting (these seal with a mechanical taper). The hose should NOT spin once tightened up. Snug this down. If you find you have any oil leaking, tighten a little at a time slowly. Snug up the Drain hose plug.
-Zip tie Drain Hose up out of the way with included zip tie.
Options are ONLY at CJ Designs
*If you don't want to do the work of modifying your own bracket , we can do it for you .  See options listed.
– Labor is $65 if you would like to have your bracket modified we can do that and ship it back with your order. See options listed, then contact us for shipping info and shop work schedule.
*Do you want to keep your stock tank mount bracket and just get a new bracket, ready to install with a hose kit? No problem, we have those too! For this please order option listed.
Don't forget to add a NEW oil filter. K&N in stock.
For Replacement parts click HERE.
CJD-OTHK-O Oil Tank Hose Kit
CJD-101 Replacement Tank Fitting- Orange
CJD-100 Replacement Hose Plug – Orange
6000309400092 KTM Lower Tank Holder FR, painted (replaces 60003094000, 6000309400001S)
58038022000
58038017100
Description
CJD LC8 OIL TANK DRAIN KIT –