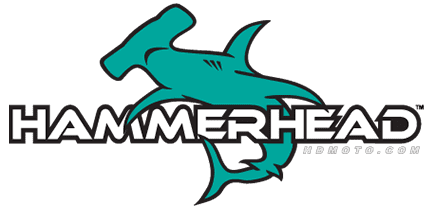 Hammerhead™ Designs was launched with the intent to provide new and better parts and innovative accessories for motocross bikes. One of our goals has been to design entirely new and unique products with improved ergonomics and the shift lever was the first part that we felt could be dramatically improved by providing a feature that would allow for the shifter to be repositioned to perfectly suit the rider's size, shape, and preference.
The result of over 18 months of prototyping and testing was our first product, the offset for length and vertically adjustable Shift Tip™ replacement shift lever tip for use on OEM shifter arms. We studied boot sizes and the distances of stock lever tips from the footpegs and were then able to design a variety of horizontally offset shift lever replacement tips from -5mm to +20mm. With this variety of Shift Tips™ we have multiple configurations that will fit virtually anyone. Due to overwhelming response and at the request of many customers and top pro riders seeking a more high quality shifter, Hammerhead™ soon began producing Shift Lever Arms for use with our Shift Tips™ to create a complete Shift Lever Kit with Tips available in lengths from -5mm shorter than stock to +20mm longer.
Our recommended sizing info is the result of countless hours of measuring boot sizes and OEM shifter lengths to produce the only source for determining what length shifter is best for each rider.
Hammerhead™ Shift Tips™ and Shift Lever Arms are 100% machine cut from solid blocks of 6061-T6 Aluminum and are designed for strength and durability far beyond that of stock and light years ahead of any other aftermarket product. In fact, there is nothing that compares to the quality and function of a Hammerhead™ Shifter. In October 2007, Hammerhead™ was awarded a US Functional Design Patent for the Adjustable Shift Lever, US Patent #7,278,336.
Custom tips with special configurations are also available as special orders. All Hammerhead™ Shift Tips™ are available in Red, Blue, Green, Orange, Silver, Black or Gold. In most cases, Shift Levers are assembled with a black Shift Lever Arm and a bike brand color tip (i.e. Honda/Red, Yamaha/Blue, Kawi/Green etc.).
Following the enormous success of our Shifter Products, we soon began work on a replacement Brake Lever Kit with the same variable length options and vertical adjustability of our Shift Lever Kits. Also cut from solid blocks of 6061-T6 Billet Aluminum, our Brake Lever Kits include a super strong Billet Lever Arm and a choice of rotating Billet Tips available in Stock position, -5mm shorter than stock, and +5mm longer than stock. By changing out the Stainless Steel set screws on the Pedal Tip, the height can be changed from stock to lower or higher depending on rider preference. Unlike stock Brake Levers, the Hammerhead™ Brake Lever Tips rotate out of the way if impacted. Our proprietary coated Spring holds the Tip firmly in position and the stainless steel hardware keeps everything tight and corrosion free. To top it off, Hammerhead™ Brake Kits come with a free Brake Clevis and Brake Snake, a $45 value!
In 2008, Hammerhead™ has added a new Brake Pedal product that utilizes our Industry first replaceable Titanium Brake Tip. With multiple position bolt-on mounting options, our Titanium Brake tip is 75% lighter than stock. With fewer moving parts and better mud-clearing characteristics, the Titanium Tip type Brake lever is truly a hard-core racer's product. Our Titanium Brake Tip also fits most KTM full-size model OEM brake pedals. Of course, Hammerhead™ Titanium Brake Kits also come with a free Brake Clevis and Brake Snake.
For more budget conscious riders Hammerhead™ also offers replacement Brake Tips that fit on OEM brake arms with the same adjustability and folding feature at a much lower price.
Showing 33–48 of 69 results